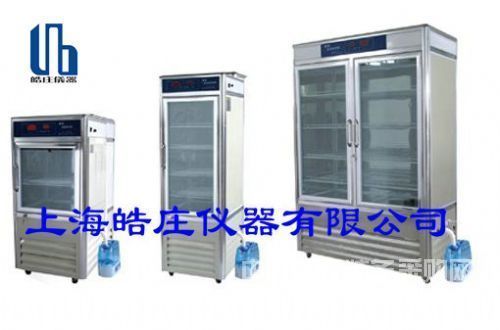 Shanghai Haozhuang Instrument Co., Ltd. Haozhuang has a recognized team of experts in the industry and first-class scientific and technological talents. With a deep understanding and mastery of scientific instrument technology, it has developed the LNB brand intelligent constant temperature and humidity incubator. It is energy-saving and environmentally friendly, leading in China. 3. Aesthetic appearance and guaranteed quality.
Haozhuang intelligent constant temperature and humidity incubator is composed of box, heater, circulation fan, temperature sensor, intelligent temperature controller, humidity sensor, humidifier, refrigerator and over temperature protector. It can maintain the temperature and humidity in the box at a certain value according to user needs. It can be used for microbial culture, physical property test of objects, breeding of insects and small animals, plant germination, storage of biological products, storage of blood and chemical medicine devices.
Box structure of Shanghai Haozhuang constant temperature and humidity incubator: The constant temperature and humidity incubator box is machined and formed by CNC machine tool, with beautiful and novel shape and non-reaction handle, easy to operate. The tank liner is made of imported high-grade stainless steel (SUS304) mirror panel or 304B argon arc welding, and the tank liner is sprayed with A3 steel plate. Adopt microcomputer temperature and humidity controller to control temperature and humidity accurately and reliably. A large observation window with an illumination lamp keeps the inside of the box bright, and double glass is used to clearly observe the situation inside the box at any time. There is an independent temperature limit alarm system, which will be automatically interrupted when the limit temperature is exceeded, to ensure that the experiment runs safely without accidents. The left side of the constant temperature and humidity incubator box is equipped with a test hole with a diameter of 50mm, which can be used for external test power line or signal line. The bottom of the machine uses high-quality fixed PU movable wheels.
Shanghai Haozhuang Instrument Co., Ltd. is a professional laboratory instrument equipment, biochemical instrument equipment, ultrasonic instrument equipment, test box experiment environment instrument equipment manufacturer, research and development, production, sales Haozhuang (LNB) brand instrument-intelligent constant temperature and humidity culture Box, sterile homogenizer, low temperature and constant temperature, look forward to the consultation, welcome your purchase!
Keep invoices, packing lists and shipping orders protected and securely attached to boxes and other containers throughout the shipping process
Crafted from oil- and water-resistant polyethylene with a high-tack rubber resin adhesive, our packing list envelopes are built to withstand some of the toughest handling conditions.
Available with or without printing in a variety of sizes to match your individual shipping needs. To keep shipping labels safe and secure, we also offer both clear and high visibility label protection tapes.
printed/unprinted, clear/white, side-loaded /top loading polyethylene envelope with easy and secure open and close. We designed this envelope with a high-tack rubber resin adhesive that sticks on contact to packages. Oil- and water-resistant, this
Packing List Envelope
securely protects documents from damage throughout delivery.
side-loaded/ top-loaded envelope opens easily and closes securely
Provides control and protection of on-package packing list and invoice documents
Non-printed/printed design provides a clear window for logos, instructions or other information and is barcode readable
Offers convenient peel-and-stick document attachment
Features a polyethylene backing, synthetic rubber adhesive and paper liner
Tough film helps reduce puncturing and tearing
Logistics Packaging,Packing List Envelope,Express Packaging, Courrier Packaging, Packing List Pouch, Packing list enclosed
AM-Besten Technology Ltd. , https://www.bestenpack.com